On Saturday, I did it… I completed my third double century. This one was Mt Tam Double in Marin county. Check out its route. Unfortunately because of California's budget problems, they closed Mt. Tam, so we rode around it, but it was just as fun.
Here are some stats:
* 200 miles
* 14:20 hours
* 14,500 feet of climbing
* Over 10000 calories lost
* 12 hours of huge grin on my face
* About 8000 calories lost by running my mouth
* Spending gorgeous Sunday outside… priceless!!
This was by far my favorite double century. The roads were nice, scenery was outstanding, and provided food was exactly what I needed. The only drawback that I can imagine was the wind. There was a lot of head wind.
But, just for the record, with this one I completed California Triple Crown. California Triple Crown is an award given to every rider who completes three qualified 200 mile bike rides (double centuries) in one calendar year. I did the following three double centuries:
* 3/28/2009 ~ Solvang Spring Double ~ 7,200 feet of climbing
* 5/16/2009 ~ Davis Double ~ 8,400 feet of climbing (at 100 F)
* 8/1/2009 ~ Mt Tam Duble ~ 14,500 feet of climbing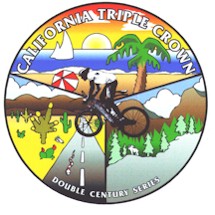 Solvang was fairly easy. Davis was hard because of the high temperatures. The interesting thing is that last year it was supposedly even more hot. The high heat makes sure that water you are drinking is warm and not refreshing.
So, what next? Well, there are still several double centuries before the end of the year. Perhaps I could get 1000 miles in. Or, maybe I will focus on something else. So many things to do, but so little time. No matter what, I think I will do some biking.