Archive for the 'Outdorsy' category
On Saturday I did Terrible Two and with that completed California Triple Crown Stage Race.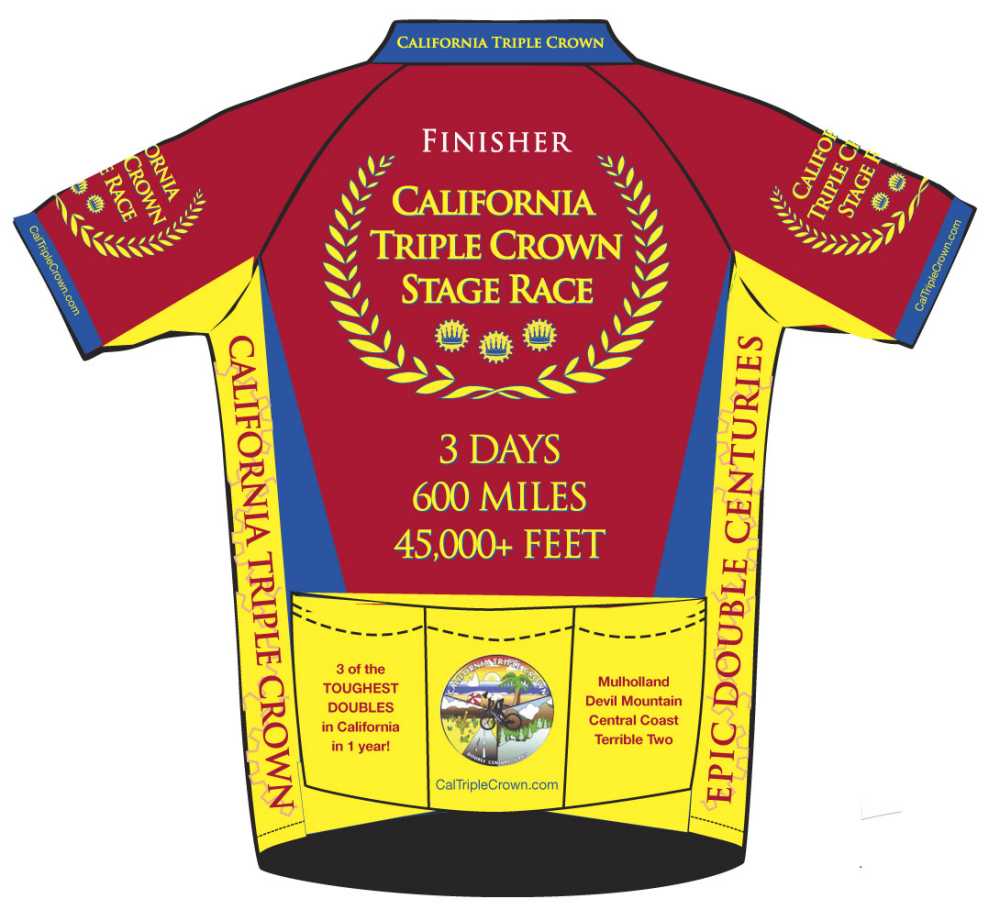 Here is a recap:
It was totally awesome; I recommend to everybody.
As for the individual doubles I did so far, here are my comments:
Solvang Double ~ great first double. It is relatively mild and the scenery is great.
Davis Double ~ looking at the profile it would seem easy, but it is really hard because of 100+F all day. Make sure to start early, get those flat miles in as quickly as possible and have insulated water bottles.
Mt. Tam Double ~ lots of climbing, but you do it early in the ride. I recommend this one to everybody.
Knoxville Double ~ shares a lot of roads with Davis Double. When I did it it was not nearly as hot and it was still hardly bearable.
Mulholland Double ~ absolutely mind blowing scenery. It is a lot of climbing with one of the longest climb towards the end.
Devil Mountain Double ~ unlike Mulholland, which has relatively mild climbs, this one is in your face climbing. Just when you recover from one climb, there comes the next one. The toughest climb is Sierra road at 160 miles. And to hit you again, there is another climb at 200 miles.
Terrible Two ~ pretty nice scenery of Napa and Sonoma. That said, Sonoma county has in my opinion the worse roads in the area. Be prepared for some serious potholes, gravel, non-paved roads, etc.

From organization stand point, anything organized by cycling clubs is best. Knoxville Double and Devil Mountain Double trump everything else. Their organizers go above and beyond. Mt Tam, Terrible Two, and Davis come close behind. Lots of quality doubles, for example Mt Tam and Terrible Two, will have valet bike service at the rest stop. This way you can go grab some food, while they take care of your water bottles and your bike. Solvang and Mulholland on the other hand are organized by Planet Ultra, which for some reason has some serious organizational problems. They do rides on awesome roads, but they do beginner mistakes, such as forgetting water, running out of food, no sunscreen, etc.

But hey, go out and ride!
Sometimes, I think civil engineers are out there making fun of everybody…
I wonder what they were thinking when they designed this marvel…
I need a new backpack. Boring… What I need is one backpack to rule them all. I am talking about the bike-commuting, laptop carrying backpack beast. Oh, and I want everything… I bike commute 100+ miles a week, usually I carry a laptop with me, and I almost always carry change of clothing, books, and other things. And I want a backpack to accommodate all that and more.
So, what are my requirements?
Comfortable ~ none of that messenger stuff. I want something I can bike century rides (100 miles) at speeds over 30MPH and not feel bad afterwards. It has to have shoulder and hip straps that are comfortable and breathable. and include a padded mesh back. It should be light, but the general comfort is more important.
Functional ~ it should be small enough to carry it on the plane as a second carry on, but at the same time big enough to fit everything I need. Furthermore it has to have pockets and compartments to easily access stuff.
Durable ~ obviously, I don't want it to fall apart.
Here is what I want to carry inside
Laptop ~ currently this is 15″ MacBook Pro, but perhaps at some point somebody (hint hint) will buy me MacBook Air. I would like my laptop to be accessible even if the backpack is full of stuff. In other words, I want to be able to pull my laptop out without having to take anything else out and without anything else spilling out.
Books ~ well, you cannot travel without those, can you. Again, easy access is crucial.
Clothing ~ and by clothing, I mean everything: shirt, pants, underwear, socks, and sometimes even shoes and jacket. Here the access is not as important, as I usually have time to change.
Paperwork ~ yeah, you know, the regular A4/letter type stuff. Has to fit a folder type thing to put the paperwork in. I assume a laptop pocket would fit this.
Other stuff ~ such as bike tools, keys, wallets, lights, etc. Those things should be in a separate pockets, so I can access them without taking anything out of the bag.
So, what is the problem? Well, it turns out that you can either get a functional bag or a comfortable bag, but not both. Most bag manufacturers will give you pockets, laptop compartments, but their bags will be uncomfortable or only comfortable for short rides. Example of these kind of bags is: Timbuk2 – Q. Functionality wise, it has everything I want. But, a quick look at its back side reveals that is would be completely useless, unless your commute is 4 miles or less.
Alternatively there are day-backpacks from reputable backpack companies, which have a great back support and feel good even on longer rides. However, these backpack are never designed to carry anything similar to a laptop. Even worse, they usually have a curved back, so you cannot fit easily flat things without loosing space. An example of those bags is: Deuter ACLite. It has a nice back support, but you can see that there is no easy access for the laptop:
This one looks promising, but I got to check it out:
Perhaps what I really need to do is get a nice backpack and fit a good laptop insert in. Well, that is what I have now, and trust me, it is not optimal.
So, what do you think? Is there such a beast?