Other posts related to cycling
On Saturday I did Terrible Two and with that completed California Triple Crown Stage Race.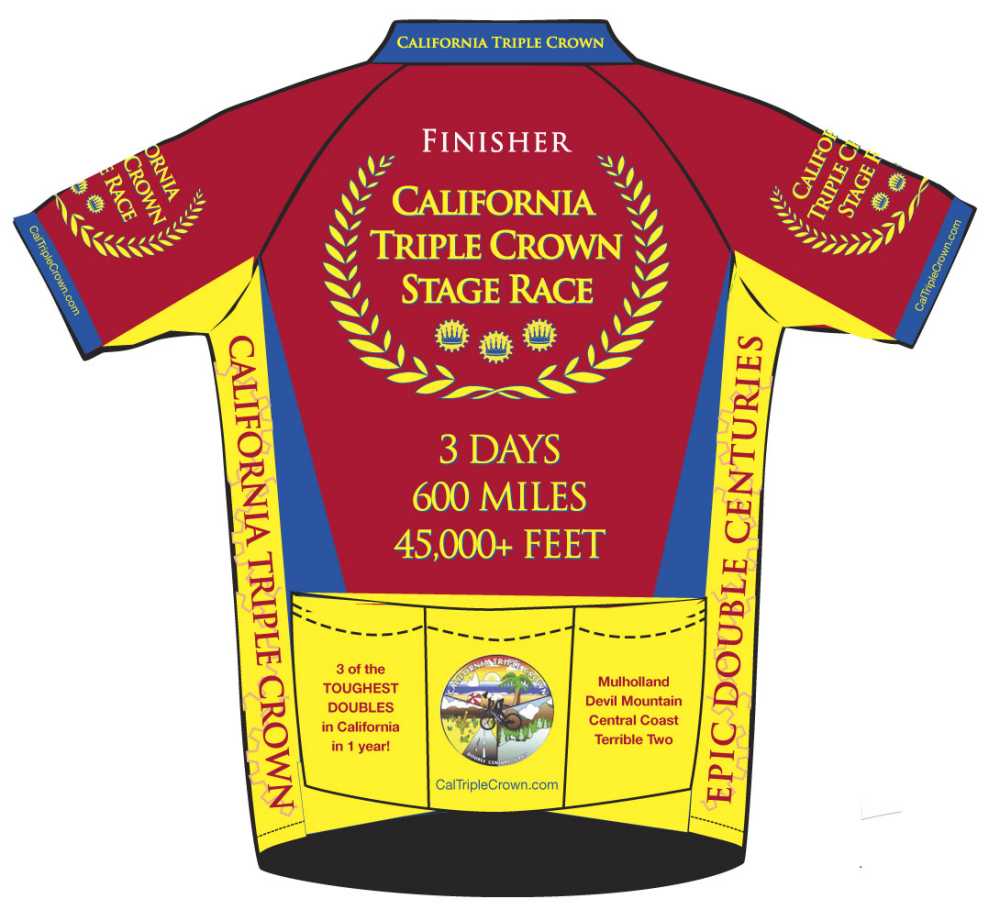 Here is a recap:
It was totally awesome; I recommend to everybody.
As for the individual doubles I did so far, here are my comments:
Solvang Double ~ great first double. It is relatively mild and the scenery is great.
Davis Double ~ looking at the profile it would seem easy, but it is really hard because of 100+F all day. Make sure to start early, get those flat miles in as quickly as possible and have insulated water bottles.
Mt. Tam Double ~ lots of climbing, but you do it early in the ride. I recommend this one to everybody.
Knoxville Double ~ shares a lot of roads with Davis Double. When I did it it was not nearly as hot and it was still hardly bearable.
Mulholland Double ~ absolutely mind blowing scenery. It is a lot of climbing with one of the longest climb towards the end.
Devil Mountain Double ~ unlike Mulholland, which has relatively mild climbs, this one is in your face climbing. Just when you recover from one climb, there comes the next one. The toughest climb is Sierra road at 160 miles. And to hit you again, there is another climb at 200 miles.
Terrible Two ~ pretty nice scenery of Napa and Sonoma. That said, Sonoma county has in my opinion the worse roads in the area. Be prepared for some serious potholes, gravel, non-paved roads, etc.

From organization stand point, anything organized by cycling clubs is best. Knoxville Double and Devil Mountain Double trump everything else. Their organizers go above and beyond. Mt Tam, Terrible Two, and Davis come close behind. Lots of quality doubles, for example Mt Tam and Terrible Two, will have valet bike service at the rest stop. This way you can go grab some food, while they take care of your water bottles and your bike. Solvang and Mulholland on the other hand are organized by Planet Ultra, which for some reason has some serious organizational problems. They do rides on awesome roads, but they do beginner mistakes, such as forgetting water, running out of food, no sunscreen, etc.

But hey, go out and ride!
On Saturday, I did it… I completed my third double century. This one was Mt Tam Double in Marin county. Check out its route. Unfortunately because of California's budget problems, they closed Mt. Tam, so we rode around it, but it was just as fun.
Here are some stats:
* 200 miles
* 14:20 hours
* 14,500 feet of climbing
* Over 10000 calories lost
* 12 hours of huge grin on my face
* About 8000 calories lost by running my mouth
* Spending gorgeous Sunday outside… priceless!!
This was by far my favorite double century. The roads were nice, scenery was outstanding, and provided food was exactly what I needed. The only drawback that I can imagine was the wind. There was a lot of head wind.
But, just for the record, with this one I completed California Triple Crown. California Triple Crown is an award given to every rider who completes three qualified 200 mile bike rides (double centuries) in one calendar year. I did the following three double centuries:
* 3/28/2009 ~ Solvang Spring Double ~ 7,200 feet of climbing
* 5/16/2009 ~ Davis Double ~ 8,400 feet of climbing (at 100 F)
* 8/1/2009 ~ Mt Tam Duble ~ 14,500 feet of climbing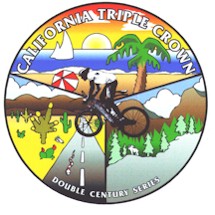 Solvang was fairly easy. Davis was hard because of the high temperatures. The interesting thing is that last year it was supposedly even more hot. The high heat makes sure that water you are drinking is warm and not refreshing.
So, what next? Well, there are still several double centuries before the end of the year. Perhaps I could get 1000 miles in. Or, maybe I will focus on something else. So many things to do, but so little time. No matter what, I think I will do some biking.