Other posts related to environment
On Saturday I did Terrible Two and with that completed California Triple Crown Stage Race.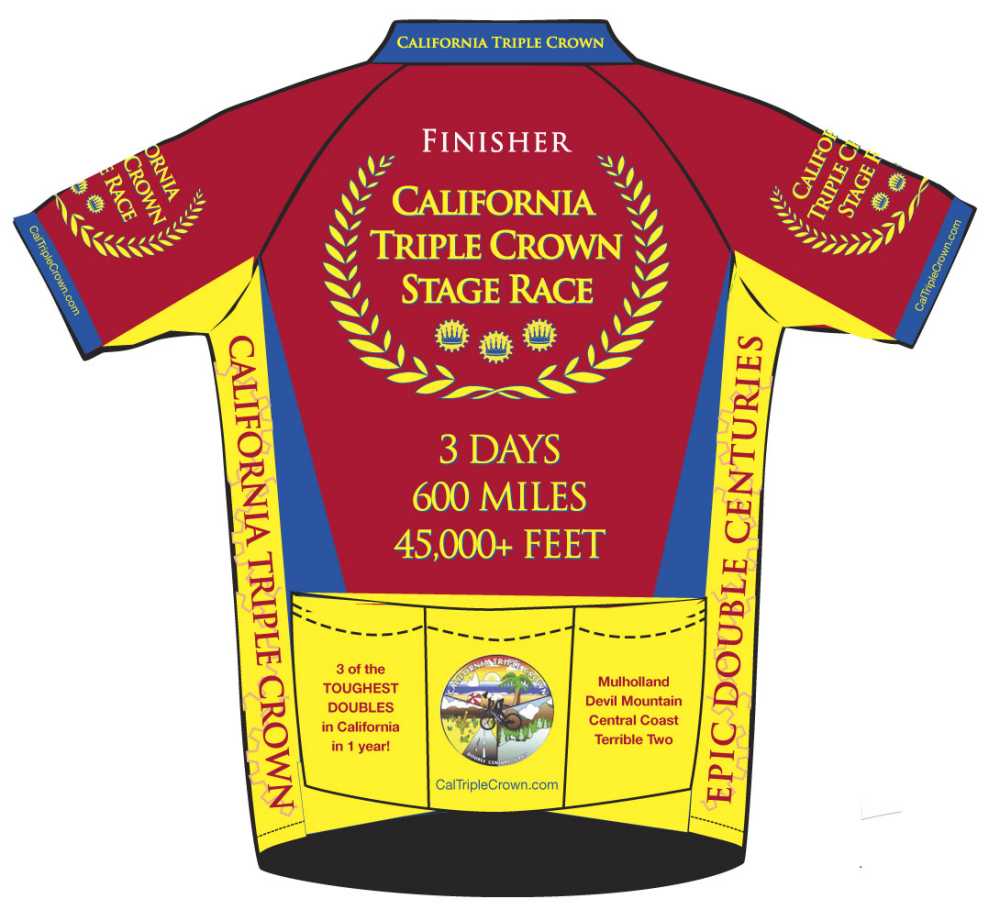 Here is a recap:
It was totally awesome; I recommend to everybody.
As for the individual doubles I did so far, here are my comments:
Solvang Double ~ great first double. It is relatively mild and the scenery is great.
Davis Double ~ looking at the profile it would seem easy, but it is really hard because of 100+F all day. Make sure to start early, get those flat miles in as quickly as possible and have insulated water bottles.
Mt. Tam Double ~ lots of climbing, but you do it early in the ride. I recommend this one to everybody.
Knoxville Double ~ shares a lot of roads with Davis Double. When I did it it was not nearly as hot and it was still hardly bearable.
Mulholland Double ~ absolutely mind blowing scenery. It is a lot of climbing with one of the longest climb towards the end.
Devil Mountain Double ~ unlike Mulholland, which has relatively mild climbs, this one is in your face climbing. Just when you recover from one climb, there comes the next one. The toughest climb is Sierra road at 160 miles. And to hit you again, there is another climb at 200 miles.
Terrible Two ~ pretty nice scenery of Napa and Sonoma. That said, Sonoma county has in my opinion the worse roads in the area. Be prepared for some serious potholes, gravel, non-paved roads, etc.

From organization stand point, anything organized by cycling clubs is best. Knoxville Double and Devil Mountain Double trump everything else. Their organizers go above and beyond. Mt Tam, Terrible Two, and Davis come close behind. Lots of quality doubles, for example Mt Tam and Terrible Two, will have valet bike service at the rest stop. This way you can go grab some food, while they take care of your water bottles and your bike. Solvang and Mulholland on the other hand are organized by Planet Ultra, which for some reason has some serious organizational problems. They do rides on awesome roads, but they do beginner mistakes, such as forgetting water, running out of food, no sunscreen, etc.

But hey, go out and ride!
I would prefer people would go vegan, but this is a great first step. Go Meatless on Mondays:
If we all just commit to one day a week without eating meat, the effect will be great over the course of the year:

Our greenhouse gas emission reductions equal US switching from a car with average fuel efficiency (that's about 22 mpg for the entire fleet) to a high efficiency car such as the Toyota Prius (50 mpg).
We will save about 1 ton of water, enough to fill up the bathtub 22 times per week
If everyone in the US did this, we'd collectively save about 12 billion gallons of gasoline
(from TreeHugger)
While you are checking out the Meatless Monday website, make sure to check their recipes, such as Zesty Carribean Banana Muffins.
There are several politicians in the world that are just so boxed in their private universe that whatever they do is somehow justified. A typical examples are US politicians that support the coal industry. As a consumer of electricity in US, I am part of the problem. However, short of not using electricity and protest, there is not much I can do. These politicians, on the other hand, do have power to make the change. But they seem to refuse to do that. Cynic in me would consider this to be caused by the politicians being payed by the evil-doers, but I sure hope that the reason is that the politicians are just not informed. How could anybody sacrifice the parks, the rivers, the drinking water, the air, and so on and be complacent in destroying the world for their children and their children's children.
To make my point even stronger, watch this video and consider these politicians.