This weekend I joined team Solar City to run 199 mile (in reality it was probably more than 200 miles, since there was at least one detour) relay called "The Relay" from Calistoga to Santa Cruz. Our team had 11 people in two vans. Each van did six legs then we rotated the vans and we did this so that each van did three sets. Here is our team: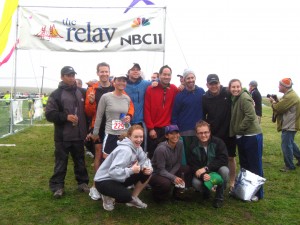 The weather was rainy, but since you get pretty hot when running, the rain actually felt really good.
Each member of the team was supposed to run 3 legs, but since we were one runner short, we had to run some extra legs. Below are the four legs I ran. To see the
pages, please signup to
and add me as a friend.
Leg 7
Distance: 6.9 miles, Pace: 7:09 minute/mile

Leg 13
This is the extra leg I ran.
Distance: 6 miles, Pace: 7:15 minute/mile

Leg 19
This leg started at 1:30 in the morning, so I was running with lights and reflective vest.

Distance: 7.1 miles, Pace: 8:05 minute/mile

Leg 31
Distance: 6.2 miles, Pace: 6:05 minute/mile

Finally, we all got medals.